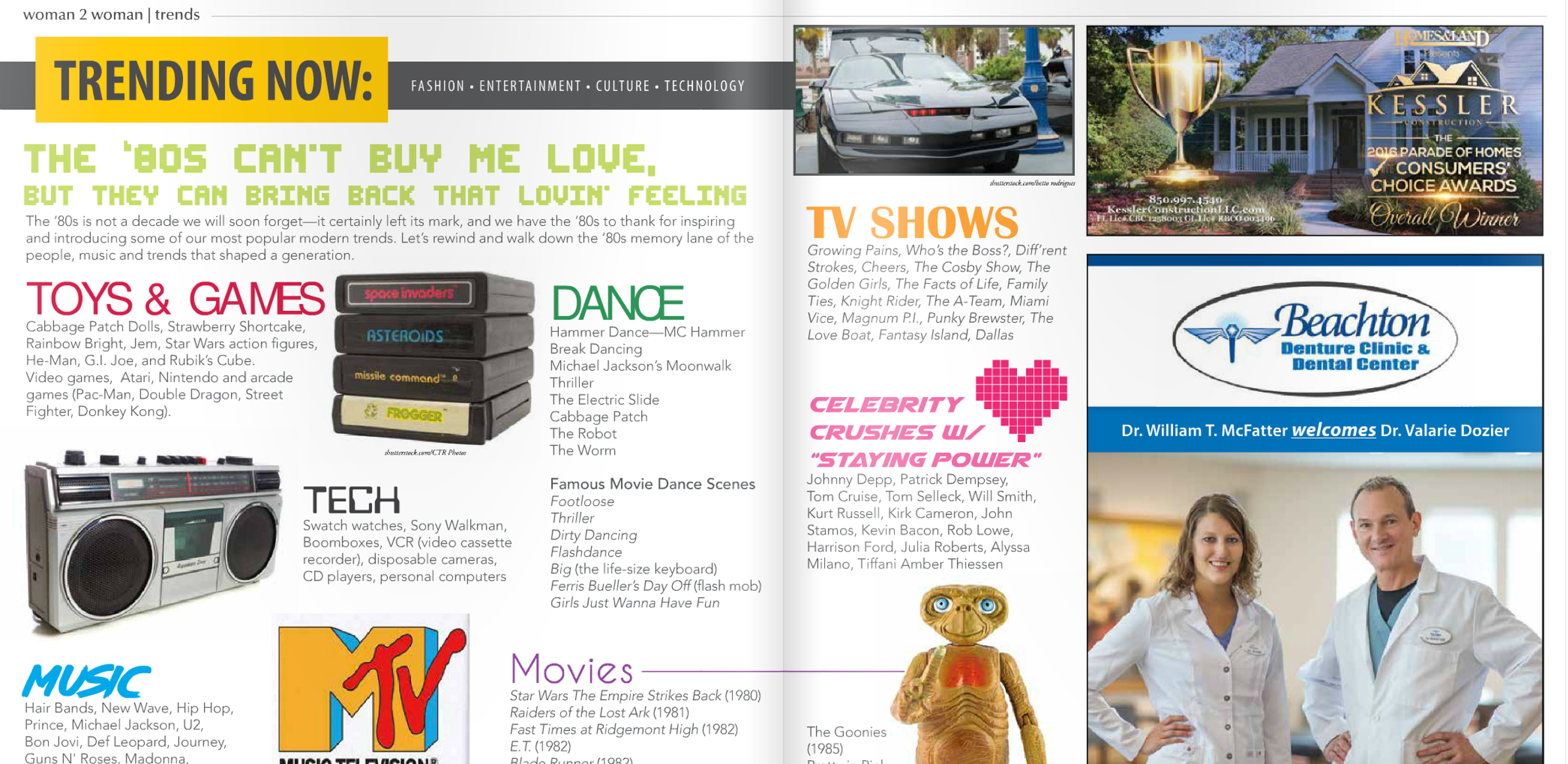 TOTAL WORDS WRITTEN: 8,534
This page showcases the writing I've done for Tallahassee Woman. This includes articles I wrote for the Aug/Sep issue, copy for the Women Who Mean Business newsletter, social media, and more.
Read the online Aug/Sep issue of Tallahassee Woman Magazine.
AUG/SEP 2016 – '80s THROWBACK ISSUE
I brainstormed ideas for this issue by researching the '80s and taking notes on topics that might be relevant to the magazine. Then I was assigned articles, which included '80s trivia, the Money Talks article about "get-rich-quick" schemes, and the Trending Now 2-page spread. I was later asked to interview three young women for the Next Generation feature. I wrote the bio for one of these three. I've linked to the final magazine articles below (screenshots of the online mag), and in some cases, the original drafts (word docs).
'80s Brainstorm – 299 words
'80s Trivia – 306 words
Money Talks article – 599 words
Trending Now – 922 words
Next Generation – 5,627 words
Total – 7,753 words
WOMEN WHO MEAN BUSINESS NEWSLETTER – ARTICLE SUMMARIES
I was asked to research online to find 10 business-related articles that we might share in the WWMB newsletter. We then narrowed it down to three articles, and I wrote the short blurbs for the newsletter to "tease" the content of each link. My goal was to give just enough information – without giving anything away – so readers would be motivated to click on the links and read the articles.
Brief blurbs for articles – 266 words
HOOTSUITE SOCIAL MEDIA PLANNING
I crafted short social media promotions and scheduled them using online social media planner Hootsuite.
Facebook/Twitter – link to advertisement page – 10 words
Facebook – link to '80s Pinterest board – 31 words
Facebook – "Haute Happening" promotion – 62 words
Total – 103 words
OTHER
I was asked to watch a video detailing a TMJ home treatment method and to condense the information into an easy to understand how-to article.
TMJ home treatment article – 412 words